It looks like Steve Aoki and Angela Aguilar will be mixing styles as they seem to be working on a theme song.
Pure magic 🪄 what we created together. Worth the wait. @angela_aguilar_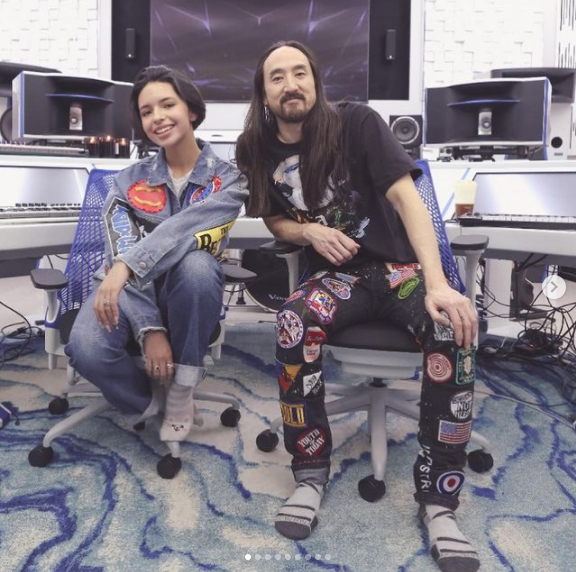 Instagram
This was what the artist or famous Dj wrote on his official Instagram account. Who was the most excited about this collaboration with the young Mexican singer, as he is the one who has uploaded more photos to his official account. Angela looks very happy with this collaboration with Aoki. Although it is not known when this song will be ready, it is very likely to be released for the Christmas season.
Although we must tell the truth, both singers have kept this collaboration in a bit of secrecy, as they have not provided details of whether it will be a single song or many more.
In images you can see Ángela recording a song. In her Instagram account they posted a message to all their followers saying about this collaboration but later she deleted the post.
Angela is a multifaceted singer who is not afraid to experiment with all kinds of collaborations, as we can remember that she is currently collaborating with the duet Jessy & Joy, which shows that the Mexican singer is ready to shine with her own light in the music scene.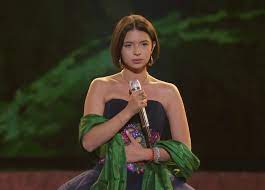 Source
This collaboration makes me a lot of expectation of what could come out between this combination of two totally different musical styles, because although I have said that Angela is a singer who adapts depending on the type of music with which she collaborates her forte is the band music and Steve Aoki on his side because we all know that he is one of the best DJs in the world.
Angela is one of the Mexican singers with the best musical future ahead of her. Aguilar is very followed by the media as part of a very important musical dynasty in Mexico.
By way of speculation it seems that the "princess of Mexican music" wants to offer different styles to her fans so I would not be surprised if she continues to seek collaborations with other singers with different musical styles than hers.
Translated with www.DeepL.com/Translator (free version)
Todo parece indicar que Steve Aoki y Angela Aguilar harán una mezcla de estilos pues parecen estar trabajando en un tema musical.
Pure magic 🪄 what we created together. Worth the wait. @angela_aguilar_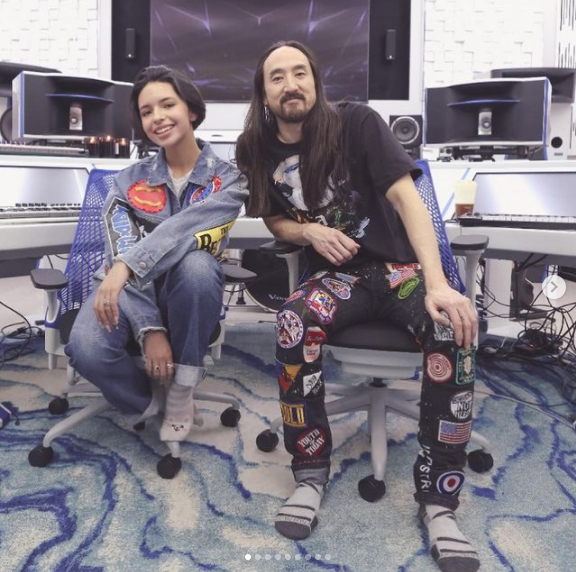 Instagram
Fue lo que escribio el artista o famoso Dj, en su cuenta oficial de Instagram. Quien fue el que más emocionado parece estar por esta colaboración con la joven cantante mexicana, pues es el que más fotos ha subido a su cuenta oficial. Por su parte Ángela luce muy contenta con esta colaboración con Aoki. Si bien no se sabe para cuándo pueda estar listo este tema musical es muy probable que sea lanzado para épocas navideñas.
Aunque hay que decir la verdad ambos cantantes han mantenido esta colaboración en un poco de secreto, pues no han brindado detalles de si será una sola canción o muchas más.
En imágenes se pude ver a Ángela grabando una canción. En su cuenta de Instagram ellos público un mensaje para todos sus seguidores diciendo de esta colaboración ero más tarde borró el post.
Ángela es una cantante polifacética que no teme experimentar todo tipo de colaboración pues si bien podemos recordar que se encuentra en colaboración con el dueto Jessy & Joy, lo que demuestra que la mexicana está lista para brillar con luz propia en la escena musical.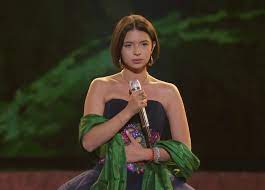 Source
Esta colaboración me hace mucha expectativa de lo que podría salir entre esta combinación de dos estilos musicales totalmente diferentes, pues si bien he dicho que Ángela es una cantante que se adapta según el tipo de música con la que colabore su fuerte es la música de banda y Steve Aoki por su lado pues todos ya sabemos que es un Dj de los mejores del mundo.
Ángela es una las cantantes mexicanas con más futuro musical tiene en la por delante. Aguilar es muy seguida por los medios de comunicación por parte de una dinastía musical muy importante en México.
A modo de especulación pareciera que la "princesa de la música mexicana" quiere ofrecer estilos diferentes a sus seguidores por lo que no me extrañaría que siga buscando colaboraciones con otros cantantes con estilos musicales distintos al de ella.