Are you aware of how to generate passive income by leveraging blockchain technology?
With the recent growth in cryptocurrency adoption, DeFi is gaining huge adoption and those following cryptocurrency markets always seek opportunities that command passive reward. In August 2021, DeFi pulse graph displayed about 77 billion dollars total volume locked in DeFi ecosystem and on September 1st, 2021, we were already close to 100 billion dollars, that's huge!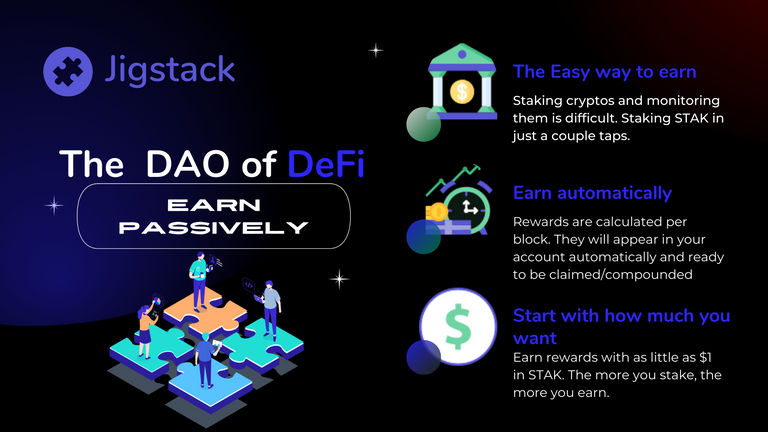 What is so unique about DeFi?
For those just hearing DeFi for the first time, it simply decentralized finance, which means a system that allows transactions without the interaction of a third party or central authority.
There are a lot of projects with DeFi solutions, but you need to be careful to study the good projects before investing.
How will you feel when you discover you can earn rewards, utility and governance tokens on your crypto asset? You seem confused?
Digging through Jigstak Project recently, unlock accessibility to reward earning, utility and governance tokens.
There are three major words you need
1. STAK
This is the utility token for a Jigstak project with a maximum supply of 3,000,000,000 STAK and over 10,000 wallet holders. The token ($STAK) is designed to be used solely as the governance token on the network.
$STAK holders can stake their tokens and participate in Jigstack's governance to receive participation rewards.
2. STAKE
Staking is one of the common features in DeFi. Jigstack provides a DAO Pool Staking Platform for the community members which operates as a decentralized market where users may deposit digital assets, and have them made available to third party borrowers/protocols via secondary smart contracts entered into directly with these third parties, in exchange for a fee. The Staking Platform allows users to stake various tokens into the DAO Pool's smart contract using the Jigstack DAO website or Jigstack wallet. Generating passive income is very possible with interaction with the Jigstack products.
3. STAKBANK
STAKBANK is the wallet staking of Jigstack. This is a platform that allows the user to stake their STAK, generate rewards, utility and governance tokens on your crypto. Take a moment to study STAKBANK website
In conclusion, there are a lot of advantages attached to blockchain technology and the new features of DeFi in the financial services space is the decentralized aspect of removing legacy or trusted third parties and step into the financial sector to keep a transparent and tamper-proof ledger.
The whole Jigstack ecosystem is full of opportunities and with the products already delivered, the community members, utility token holders are already benefiting from them.
Join the official handles for the project updates
Website | Medium | LinkedIn | Telegram | Discord | Twitter
Posted Using LeoFinance Beta