Preface
Similar to traditional financial derivatives, which derive their value from other underlying assets like commodities, currencies, precious metals, stocks, or bonds, synthetic assets aim to achieve the same objectives without the necessity of holding the actual asset itself. synthetic asset is simply a tokenized derivative that mimics the value of another asset. Synthetic assets, sometimes referred to as synths, are a combination of cryptocurrencies and traditional derivative assets.
About Phantom protocol
Phantom is a cross-chain DeFi protocol for synthetic assets creation and mining, as well as NFT issuance. Phantom users can use cryptocurrencies, NFT, and other digital assets as collateral to create synthetic assets. Phantom aims to break down barriers between digital currency assets and traditional assets and lowering the threshold for ordinary people to participate in diversified investment categories.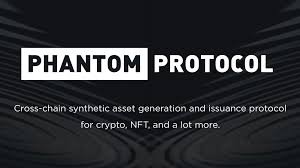 Traditional derivatives were once groundbreaking in their ability to unlock additional value from assets like equities. However, crypto synthetic assets are taking liquidity access to a whole new level.
Features of Phantom protocol
Compare to other synthetic project, Phantom protocol possess great features which is most advantageous to the community;
Diversified Asset issuance
including Token and NFT: holders are given the opportunity of issuancing their NFT through smart contract system, which will be deliutude into pNFT Tokens, thus providing more liquidity for NFT transactions. At the same time, such NFTs can be traded on NFT exchanges to provide anchor price for the product. Multiple benefits.
Multi-market Synthetic
Asset support: Phantom support multi-market synthetic assets expands from crypto to traditional markets such as gold, stocks, etc., Additionally, it can also support pNFTs linked to real-world commodities

Cross-chain Compatibility
and AMM Liquidation: Phantom is working with multiple influencers in the E-Sports market, and is exploring in-depth collaborations to combine blockchain and E-Sports.
Other benefits include; - Multi Collacterization (Phantom users can use mainstream stablecoins, crypto assets, and even NFT as collateral to generate synthetic assets). - Worldwide liquidity (trading can be done on many Centralize and decentralized exchanges including Gate.io , Conflux , 7Star etc.). - Borderless transfers ( a transaction can be done in seemless speed and out anywhere in the world.).
** The phantom protocol utilises the PHM token, as the project governance token Stakers of PHMs are required to vote on active polls, and as a deposit for new governance polls. PHM will have more utilization in Phantom's future development.
Conclusion
As at the time of listing, phantom protocol Token price, was $0.002387 USD with a 24-hour trading volume of $146,566 USD. +7.96% in the last 24 hours. The current Coinmarketcap ranking is #3803, With a less than a year launch $PHM token seem to doing good.
For more details visit the links
Telegram
Twitter
Medium
Website
Disclaimer
All analysis was burnt from research from the author, investors are advised to make their private research as author wouldn't be held liable for any investment decision. Comments suggestion and support would be highly appreciated.