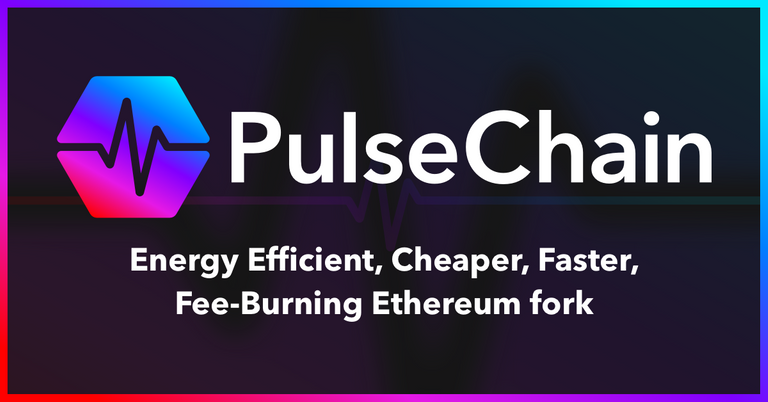 Photo Source
INTRODUCTION
PulseChain will be a brand new blockchain ecosystem when launched that currently is receiving much hype. According to PulseChain, this new blockchain will offer significant enhancements over the current Ethereum blockchain. Additionally, the launch of this new platform is claimed to be based on the biggest Airdrop or initial coin distribution in blockchain history.
So, is all this hype justified? In this subsection of the PulseChain Coin Guide let's give a look at the pros and the cons associated with this project with a view toward aiding you in your investment making decision.
PROS IN FAVOR OF INVESTING IN PULSECHAIN (PLS)
It is one of PulseChain's many claims that it does not consider itself to be an Ethereum killer nor to directly compete with Ethereum, but rather desires to decrease the burden upon the Ethereum main ecosystem.
PulseChain claims that it will be more energy efficient than Ethereum.
PulseChain claims that it will, in fact, increase Ethereum's value by causing a decrease in Ethereum transaction fees by sharing Ethereum's transactional load.
PulseChain's utility token, PLS, is designed in a fashion to be deflationary through token burn mechanisms.
Blockchain validators in the system will receive fees and 25% of said fees will likewise be burnt.
PulseChain is designed as a hard fork of Ethereum. As such, PulseChain will replicate each and every ERC-20 existing on the Ethereum chain on to its chain with all assets starting with a zero value. So even if you have not invested in PulseChain, you will receive a copy of all ERC-20 assets you own on PulseChain.
PulseChain will operate on a Delegated Proof of Stake model (DPoS) thereby reducing transaction fees compared to Ethereum.
The DPoS model employed by PulseChain also permits optimization of block times to 3 seconds compared to Ethereum's block times of 13 seconds.
PulseChain makes somewhat of an incomprehensible claim that it will enrich ERC-20 and NFT users:
The launch of PulseChain is the largest airdrop in history. Thousands of Ethereum based tokens and NFTs receive their free PulseChain versions. This new gold rush contains the value discovery of thousands of tokens and NFTs on PulseChain. If you always wanted to be a whale in a certain ERC20 or NFT, maybe now you can be.
[PulseChain. Energy Efficient, Cheaper, Faster, Fee-Burning Ethereum Fork. (Accessed September 24, 2021)].
Pulsechain claims that it is easy to use with a MetaMask wallet and all a user needs to do to utilize MetaMask with PulseChain is to change a single setting.
The PulseChain native utility token PLS, can be staked and delegated to various validators for a reward of a large percentage of fees.
Pulsechain will offer interoperability options for chains with smart contract capabilities.
CONS AGAINST INVESTING IN PULSE CHAIN (PLS)
A rather shady disclaimer is presented by PulseChain on it's official website. This disclaimer is set forth below and your author leaves it up to you, the potential investor, to determine the weight you wish to place upon it:
You are sacrificing to prove how strong you believe that blockchains are speech and speech is a protected human right. This is an important political statement. You must have no expectation of profit from the work of others. The set of people who have sacrificed to show their commitment to this political statement makes a great set of people to airdrop free things to. This sacrifice points are not meant to have any monetary value. Remember, you're not buying anything, the world is just noticing you are amongst a group of people that sacrificed to make a political statement. Some countries tax their citizens when they receive things of value. PulseChain and all the coins on it are designed to start with no value, which is ideal. Consult your own legal and financial professionals, as nothing written here should be considered professional advice. The only thing we know of set to be airdropped for free to this political group so far is PulseChain (PLS.) If we hear about other cool things, we'll let you know.
[Id.].
Pulsechain's 'sacrifice period' (where user's effectively burn tokens they already own to be replaced by a greater amount of PLS when PulseChain ultimately launches) is unique to the blockchain paradigm and accordingly is suspicious and questionable. Said 'sacrifice period' ended August 2, 2021, but those sacrificing have only received points as the chain still as yet has not launched.
It is an interesting fact the naming of this as a 'sacrifice'. The associated term 'sacrifice' must be questioned in light of the fact the launch is to be at zero value (supposedly so there will be no profit from the work of others) and that it will not consist of a taxable event upon issuance of the revived coins.
With the exception of the sacrifices going charitably to the SENS Organization, it appears that all other sacrifices go directly to the developer, Richard Heart
PulseChain claims it's launch is imminent. However, in a release dated August 17, 2021, Pulsechain outlined it's 'to do' list required before launch, as follows:
Puslechain Main Net Minimum Viable Product
testnet

go.hex.com working with pHEX
Bridges with ETH, and other large Ethereum ERC20s
A possible Uniswap Frontend for Pulsechain….huge.
Block explorer for Puslechain and PLS.
And now we get to post Minimum Viable Product Release:
Trading: Pancake Swap, a fork of uniswap with LP rewards. Both ERC20 and Pulsechain 20 pairs.
Coin ranking sites for Pulsechain network coins/tokens. (Think Nomics, coinmarketcap).
Wallet to replace metamask. (who will operate this?)
Uniswap but doing it across chains
Stablecoin from Richard Heart's own exchange.
[PulseChain. Major Pulsechain Updates – When will Pulsechain launch?. (Accessed September 24, 2021)].
Given this somewhat long and technical list of pre-launch conditions, it is hard to conclude that PulseChain will be launching in the near future.
CONCLUSION
It is not the purpose of this subsection (nor the intent of your author) to make your investment decision for you. What has been presented represent the major pros and cons associated with the PulseChain project. However, your author does suggest that you proceed with great caution with regard to your investment decision concerning PulseChain. It must be seriously stressed that you utilize this article as a starting point for your research into this project, and that you carry forward additional diligent research before making a final investment decision.
And please, never invest more than you can afford to lose. Good luck
Posted Using LeoFinance Beta