Today marks one year for me on hive, and it has been a beautiful journey throughout the 365 days cycle. I will be focusing more on the benefits I have gained since I joined the platform precisely since 6th August 2020. Last year was a tough year with the COVID-19 pandemic that delayed the progress reaching our goal, maybe for others it was, but not for me, it wasn't when I was introduced to hive. I started blogging on hive not knowing what to expect, I wasn't good at writing but I was ready to give it a try. Financially I was unstable, however, I was desperate to reach financial independence.
I started with my first post which was an introductory post then preceded to joining contests. Just like the saying nothing good comes easy, the first week was not all encouraging but I knew a drop was better than none. During the second week, I started making good post payout, and the more encouraged I was to keep going while training 1 to become better. After a month I was able to raise money I used in paying for my license fee as a health student. Gradually I started becoming financially independent paying little bills that concerned me and the family.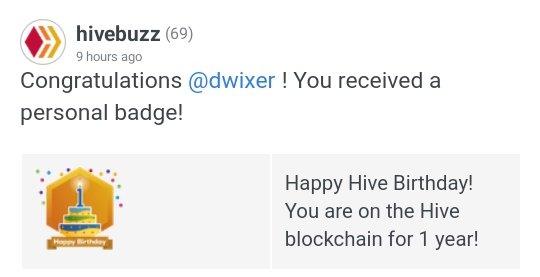 After 3 months, I introduced four friends and so far they've been doing well and the referral network has kept expanding as more friends kept joining the platform. Today I'm confident of handling some financial responsibilities because I grabbed this opportunity that was presented when others felt the year 2020 has nothing good to write about. Joining Hive has been a blessing and this blessing has kept spraying from me to family and down to friends.
I'm also grateful to have made wonderful friends from within and outside the country, expecting @agmoore @zeurich, @burlarj, and @kemmyb that have continually supported and encouraged the effort I put in becoming better.
Wishing myself more beautiful years on hive. Long live Hive.