Pero que bien jugó el Manchester United la noche de hoy. Hoy los de Manchester tenía una difícil tarea de enfrentarse al Chelsea en la liga premier.
Jugar contra el campeón de Champions nunca es fácil sobretodo si no pasas tu mejor momento futbolístico. Al día de hoy el Chelsea es quizás el mejor equipo del mundo. Por su parte el United no pasa por su mejor momento.
Jugar contra el líder de la Premier League tampoco es fácil pues al día de hoy las condiciones futbolísticas del Chelsea son superiores a la mayoría de los equipos con excepción de City y Liverpool.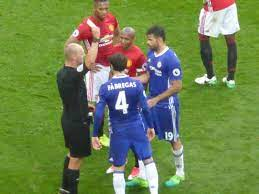 Source
Pero que bien jugó el United el día de hoy. Jugar sin director técnico y jugar con un técnico interino que no tiene casi nada de experiencia no es fácil. Hacer experimentos a mitad de temporadas no es habitual en un club tan grande como el United.
Pero que bien jugó el Mancheter United el dia de hoy. Defender tantos corners ante un Chelsea que tiene un poderío aéreo envidiable y que basa tiene a tan buenos rematadores de cabeza y que estos no hayan podido sacar casi nada de ventaja habla de lo bien que defendió el United. Defender 15 tiros de esquina y que la mayoría la hayan ganado los defensores de los Reds Devils habla de la gran concentración defensiva que tuvieron.
Ponerse adelante en el marcador tras la búsqueda incesante del error de los Blues como única estrategia para ganar el partido y que al final les haya salido, habla de la gran suerte que tuvieron los de Carrick. Es verdad que el United no tuvo un planteamiento para ganar el juego de hoy sino esperar el error y aprovechar esta oportunidad y al final les terminó resultando.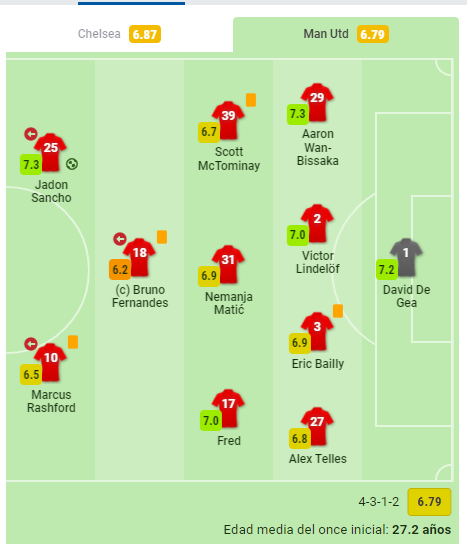 Source
Jugar de visitante en Stamford Bridge no suele ser fácil para ningún equipo y hoy el Manchester lo sabía. Sabía que no podía jugar al mismo nivel que el Chelsea. Si el United hubiese jugado con una postura más ofensiva fácilmente se hubiera llevado una goleada.
United es un equipo muy incomodo, que sabe jugar este tipo de partido, tiene una especie de misticismo mágico que lo envuelve que me llama mucho la atención y al mismo tiempo me molesta. Me molesta porque de ser otro equipo el día de hoy la derrota la hubiera tenido casi que asegurada.
Hoy no esperaba que el United pudiera sacarle siquiera un punto al Chelsea, sinceramente viendo lo que ha sido la defensa del United y lo que es el ataque del Chelsea esperaba que la goleada empezara desde temprano en el marcador, pero no fue así.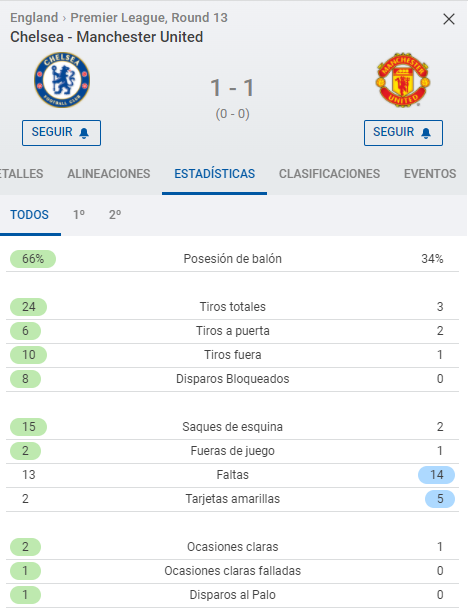 Source
Hoy un De Gea y una serie de combinaciones astronómicas (es probable que todos los planetas se hayan alineados a favor de los de Manchester) hicieron que las cosas para los de Tuchel no salieran.
Pues nada no esperaba que el resultado de este juego fuera este, más viene estaba listo para llamar a mis amigos que siguen al United y burlarme de su derrota, pero no tocó. Así que nada a seguir para adelante.
Translated with www.DeepL.com/Translator (free version)


English Version
But how well Manchester United played tonight. Today Manchester United had a difficult task to face Chelsea in the Premier League.
Playing against the Champions League champions is never easy, especially if you are not at your best. As of today, Chelsea is perhaps the best team in the world. On the other hand, United is not going through its best moment.
Playing against the leader of the Premier League is not easy either because Chelsea's soccer conditions are currently superior to most of the teams except for City and Liverpool.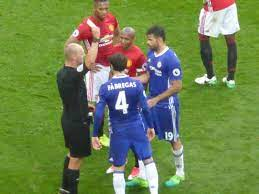 Source
But how well United played today. Playing without a manager and playing with an interim manager who has almost no experience is not easy. Experimenting in the middle of the season is not usual for a club as big as United.
But how well Mancheter United played today. To defend so many corners against a Chelsea team that has enviable aerial power and that has so many good headers and that they were unable to take almost any advantage speaks volumes about how well United defended. To defend 15 corner kicks and have most of them won by the Reds Devils defenders speaks volumes about the great defensive concentration they had.
To go ahead on the scoreboard after the Blues' relentless pursuit of error as their only strategy to win the game and for it to have worked out in the end speaks to the great luck Carrick's side had. It is true that United did not have an approach to win today's game but to wait for the mistake and take advantage of this opportunity and in the end it ended up working out for them.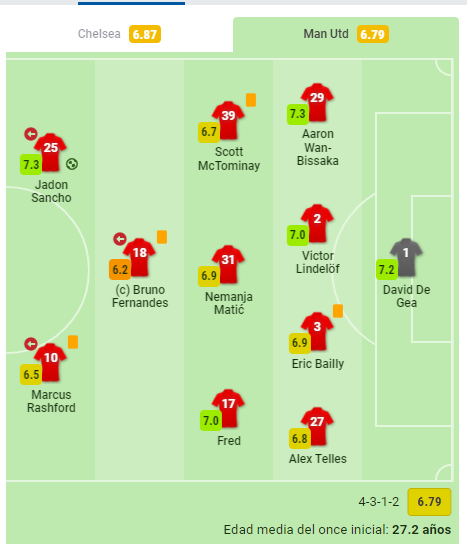 Source
Playing away at Stamford Bridge is not usually easy for any team and today Manchester knew that. They knew they could not play at the same level as Chelsea. If United had played with a more attacking approach they could easily have been beaten.
United is a very uncomfortable team, they know how to play this kind of game, they have a kind of magical mysticism that surrounds them that attracts my attention and at the same time bothers me. It bothers me because if it had been any other team today, defeat would have been almost guaranteed.
Today I didn't expect United to be able to get even a point out of Chelsea, honestly seeing what United's defense has been and what Chelsea's attack is, I expected the scoreline to start early, but it wasn't like that.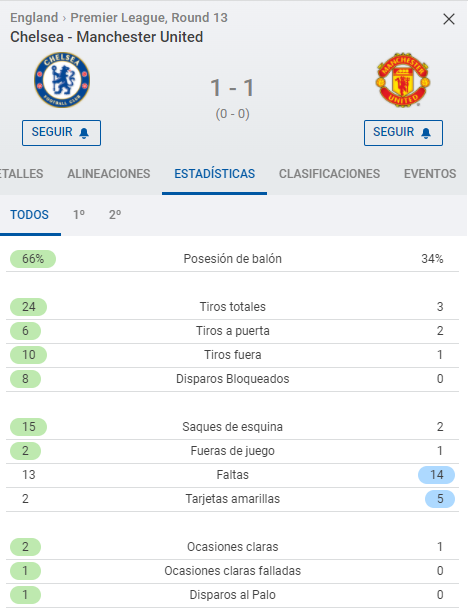 Source
Today a De Gea and a series of astronomical combinations (it is likely that all the planets have aligned in favor of Manchester) made things for Tuchel's team did not work out.
Well, I didn't expect the result of this game to be like this, I was ready to call my friends who follow United and make fun of their defeat, but it didn't happen. So nothing to move on.
Translated with www.DeepL.com/Translator (free version)