Deporte y violencia
¿Qué le viene a la mente cuando digo deporte y violencia? Quizás usted pensó en algún tipo de deporte violento como las artes marciales, el boxeo o algún otro deporte de contacto.
Si ese fue su caso le quiero decir que está equivocado, de lo que quiero abordar es otro tipo de violencia en las que están envueltas las mujeres principalmente.
Y es que el World Athletics ha publicado un estudio donde se pone en evidencia el abuso del que fueron victimas las atletas femeninas en los Juegos Olímpicos de Tokio 2020.
Y es que según este reporte de World Athletics las mujeres atletas han sido objeto del 87% de todos los abusos durante el periodo de estudio de dicho reporte.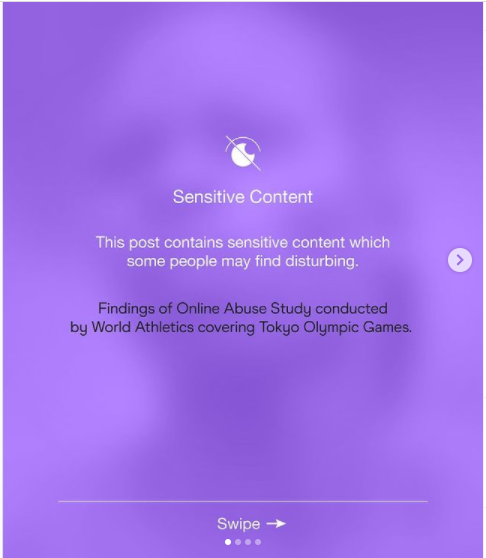 Source
World Athletics hizo publico los resultados de esta investigación en pro de hacer el deporte una actividad en la que todos los atletas puedan desempeñarse de manera igual y donde se respeten los derechos humanos de todos y cada uno de los atletas.
El estudio resalta "los preocupantes niveles de violencia que reciben las mujeres atletas" en comparación a los atletas masculinos. Los mensajes abusivos que recibieron las atletas en Tokio 2020 eran de todo tipo, sin embargo, el 80% de los mensajes se focalizaron en mensajes sexistas, homofóbicos, racistas, transfóbicos y acusaciones infundadas de dopaje.
Para poder llevar a cabo este estudio World Athletics analizó 119 cuentas de Twitter de atletas actuales y anteriores participaron de los juegos olímpicos, comenzando una semana antes de la ceremonia de inauguración y terminando el análisis un día después de la clausura de los juegos.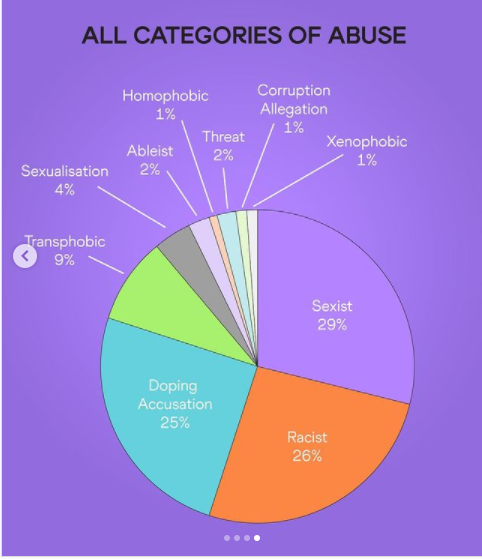 Source
Los investigadores recopilaron 240,707 tweets con 23,521 imágenes con Gif y videos o contenido multimedia. Se busco insultos, frases ofensivas, imágenes ofensivas y todo el contenido que pudiera ser potencialmente abusivo.
23 atletas fueron victimas de mensajes abusivos y discriminatorios, de los cuales 16 fueron atletas mujeres y la mayoría de estos mensajes (115) estaban dirigidos a las chicas. Siendo las atletas no blancas las que recibieron la mayor cantidad de mensajes abusivos.
Me resulta bastante preocupante y molesto que se abuse a las mujeres atletas. Cualquiera puede ser victima de ataques en línea, pues resulta fácil para alguien escribir a través de una red social, desde la comodidad de que posiblemente no se le vaya a denunciar.
¿Cuanto puede afectar el desempeño de un atleta estos mensajes abusivos? No debe de ser fácil para un atleta, ni para ninguna persona, tener que leer mensajes abusivos. Es por eso que apoyo las causas de chicas como Simone Biles que apoyan y abordar temas como la salud mental deportiva.
Creo que es de creciente preocupación para todos y de todos deberíamos de apoyar estas causas. Creo que aunque sea poco denunciando este tipo de cuentas en redes sociales y no siendo parte del abuso, construimos un espacio libre de abuso.
Lo molesto es que son principalmente las mujeres las que son victimas de estos abusos ¿Me pregunto porque? ¿Por qué alguien querría ofender a atletas que sirven de inspiración a otros y que solo están compartiendo sus logros y dando lo mejor de si?

Version en Ingles
Sport and violence
What comes to mind when I say sport and violence? Maybe you thought of some kind of violent sport such as martial arts, boxing or some other contact sport.
If that was your case I want to tell you that you are wrong, what I want to address is another type of violence in which women are involved mainly.
World Athletics has published a study which highlights the abuse that female athletes were victims of at the Tokyo 2020 Olympic Games.
According to the World Athletics report, female athletes have been subjected to 87% of all abuses during the study period of the report.
World Athletics published the results of this research in order to make sport an activity in which all athletes can perform equally and where the human rights of each and every athlete are respected.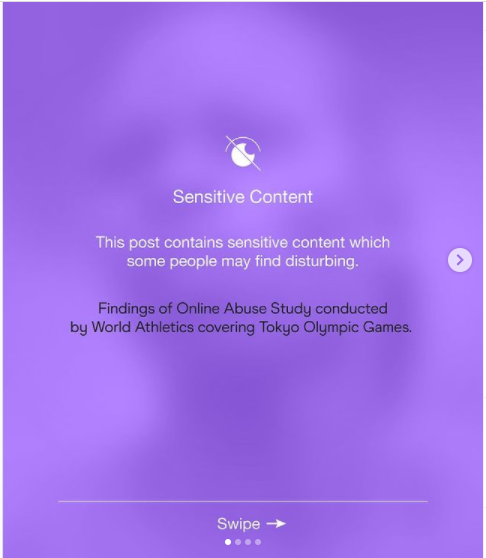 Source
The study highlights "the worrying levels of violence received by female athletes" in comparison to male athletes. The abusive messages received by female athletes in Tokyo 2020 were of all kinds, however, 80% of the messages focused on sexist, homophobic, racist, transphobic and unfounded accusations of doping.
In order to conduct this study, World Athletics analyzed 119 Twitter accounts of current and former athletes who participated in the Olympic Games, beginning one week before the opening ceremony and ending the analysis one day after the closing of the games.
The researchers collected 240,707 tweets with 23,521 images with gifs and videos or multimedia content. They searched for insults, offensive phrases, offensive images and all content that could be potentially abusive.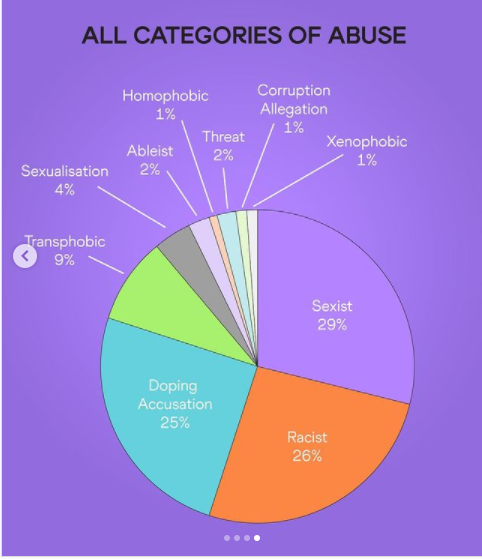 Source
23 athletes were victims of abusive and discriminatory messages, of which 16 were female athletes and most of these messages (115) were directed at girls. Non-white female athletes received the most abusive messages.
I find it quite disturbing and upsetting that female athletes are being abused. Anyone can be a victim of online attacks, as it is easy for someone to write through a social network, from the comfort of possibly not being reported.
How much can these abusive messages affect an athlete's performance? It should not be easy for an athlete, or anyone else, to have to read abusive messages. That's why I support the causes of girls like Simone Biles who support and address issues like sports mental health.
I think it is of growing concern to everyone and we should all support these causes. I believe that even if it is little by denouncing these types of accounts on social media and not being part of the abuse, we build a space free of abuse.
The annoying thing is that it is mainly women who are the victims of this abuse... I wonder why? Why would anyone want to offend athletes who serve as an inspiration to others and who are just sharing their achievements and giving their best?
Translated with www.DeepL.com/Translator (free version)